Sandy Lane's Top 10 villas to rent
Sandy Lane is a wonderful location to rent a villa in Barbados. There are so many lovely villas to rent it is difficult to decide which ones are best.
Here is our personal list (in no particular order) of Sandy Lane's top 10 villas to rent.
Bluff House Barbados is a luxurious 6 bedroom villa located in Sandy Lane. It is just steps away from the beautiful Sandy Lane beach. It is a very popular rental and certainly amongst Sandy Lane's top villas to rent.
We love this house because it is on the beach in the prestigious Sandy Lane estate. It can also be rented with or without the separate 2 bedroom Bluff Cottage.
Buff House comes with butler, cook, housekeeper, laundress, maid and security guard.
Bluff House is a stunning classical coral stone villa. It has private access through its own gated pathway to the beach.
It offers great entertaining space and is set in lush, tropical surroundings.
There is an expansive pool deck from which you can enjoy glorious views through the palms to the Caribbean. 
Bluff House has a formal indoor dining area with a beautiful coral stone dining table as the centrepiece.
More informal dining can be enjoyed on the covered terrace which has wonderful views of the grounds.
There are six stylishly decorated double air-conditioned bedrooms. Each has its own en-suite bathroom.
Guests staying at Bluff House are within easy reach to many amenties on the West Coast of Barbados in Holetown. Guests may access the popular Sandy Lane beach. This can be accessed through the villa's own private path. Sun loungers are provided on the beach. 
Bluff House offers 6 bedrooms but for larger parties it can be rented with the separate 2 bedroom cottage Bluff Cottage
Aurora is an elegant 6 bedroom luxury villa in Sandy Lane Barbados. It is set amongst 2 acres of sloping landscaped gardens with manicured lawns, numerous orchids and tropical flowers. It has its own private tennis court and is rented with cook, laundress, housekeeper and night watchman.
The beauty of Aurora is that it can be rented on 1 3, 4, 5 or 6 bedroom basis.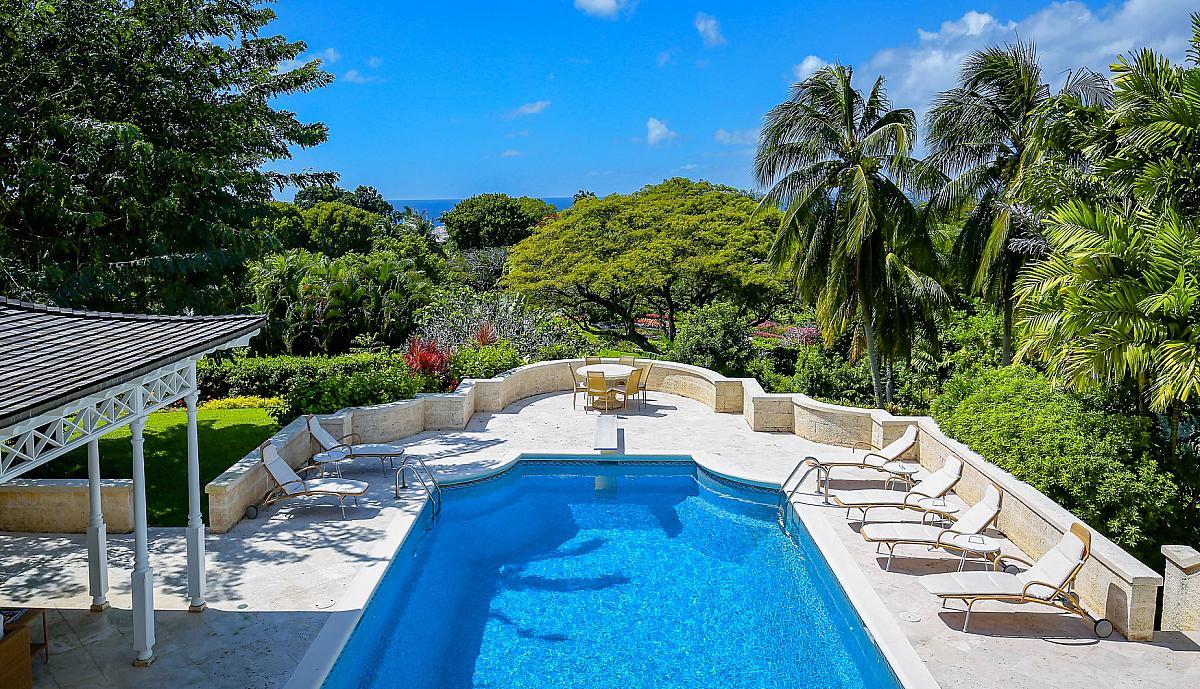 This georgian style luxury villa sits in an elevated position from which guests may enjoy panoramic views over the Sandy Lane Estate and the Caribbean sea beyond.
It is beautifully decorated with pickled pine ceilings and Georgian- style french doors. These open out to the terrace and large mosaic tiled swimming pool.
Aurora's dining gazebo leads onto a covered cool terrace where there is more informal seating and dining. It has with views of the sparkling Caribbean Sea and evening sunsets.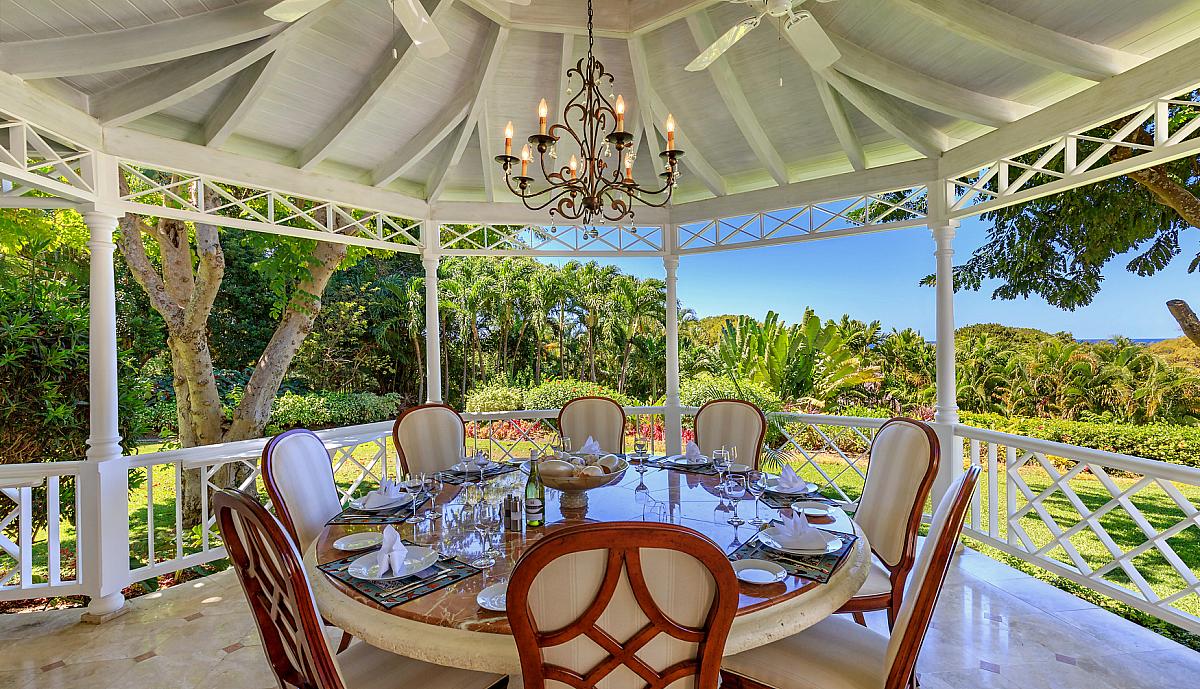 Each bedroom has an en-suite bathroom, air conditioning and ceiling fans.
Aurora has its own tennis court and a private cabana on the exclusive Sandy Lane Beach. 
We love Alila because it is modern and Balinese in style with fabulous open plan design. It is a 4 bedroom, 2 storey villa set in tropical gardens. It has its own stunning private swimming pool. Alila may be rented (except over the festive period) on a 3 or 4 bedroom basis.
Alila comes with chef, housekeeper and laundress.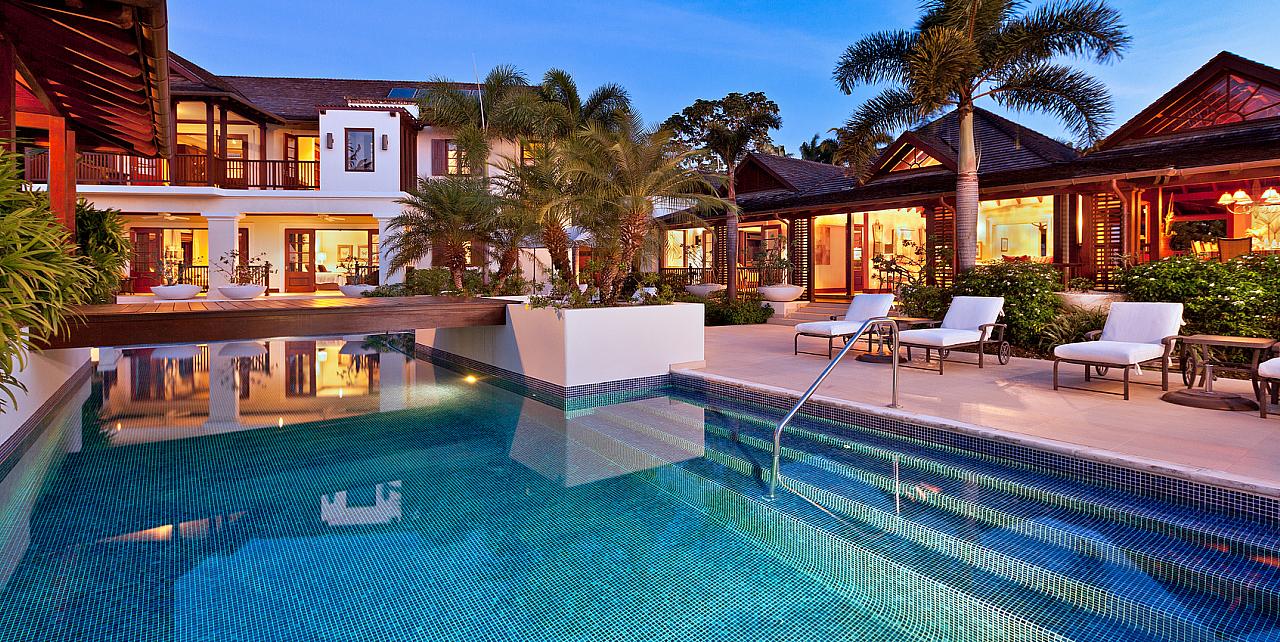 Alila is situated on the edge of a ridge on the West Coast. It has wonderful treetop views out to the Caribbean Sea. 
From the moment you enter you will be wowed by its stunning features. There is a fountain at the entrance and soothing koi ponds. 
The master bedroom encompasses the whole upper level and has a private terrace offering breathtaking views. It also features a unique ensuite bathroom with a spacious walk in shower and a wonderful open air tub.
The master bedroom has a private patio with a unique ensuite bathroom with a spacious walk in shower and a wonderful open air tub. All of the other 3 bedrooms open out onto patios and are also air conditioned with ensuite bathrooms.
All of the other 3 bedrooms are on the lower level of the property. They open out onto terraces and are also air conditioned with ensuite bathrooms.
Outside there is a beautiful wooden bridge leading across the infinity edge swimming pool to a raised dining gazebo from which guests can enjoy the stunning views.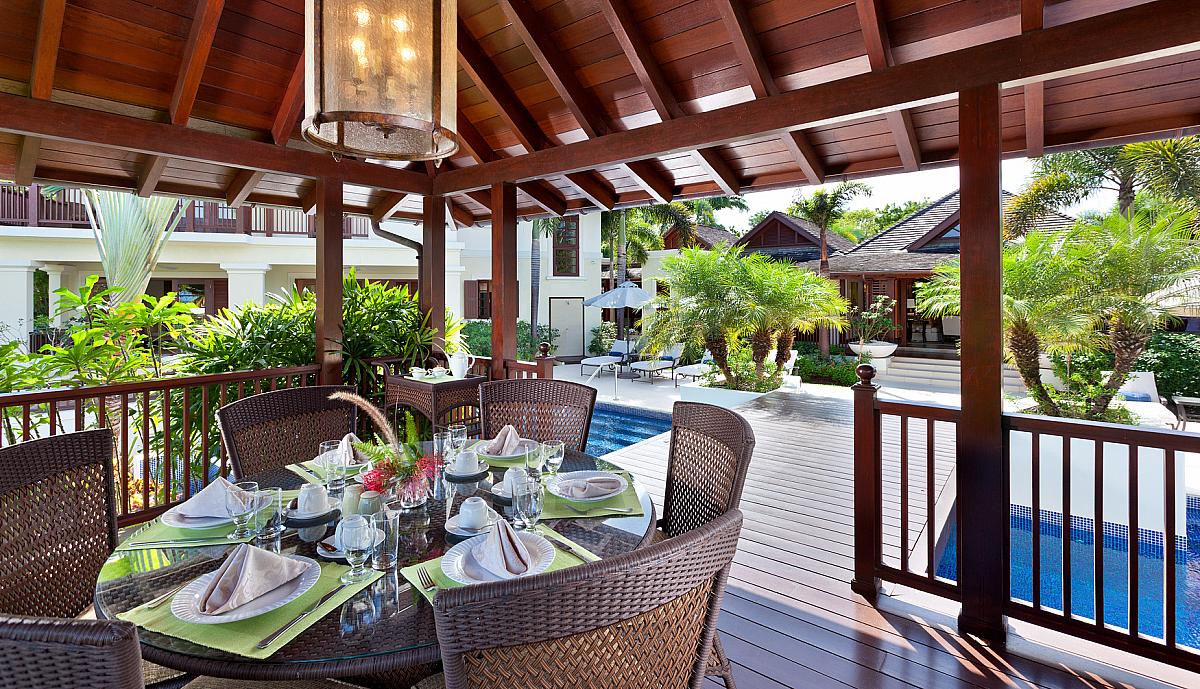 Alila is equipped with modern appliances and up-to-date technology. It has a fully equipped large kitchen with granite surfaces. There are iPod docks in each room and modern security features.
Guests staying at Villa Alila Barbados will also have access to a private beach cabana at the renowned Sandy Lane beach.
Sanzaru is one of the most stunning villas in the Caribbean. It is a must for inclusion in our list of Sandy Lane's top 10 villas to rent
It has 11 bedrooms and is located on the prestigious Sandy Lane with wonderful views over the Caribbean Sea. Sanzaru is rented with cook/maid, laundress and housekeeper. 
There are few homes in Barbados that match the quality and style of Sanzaru. It offers the privacy of a home with the service you might expect from a world class hotel.
Sanzaru is enormous with 21,000 sq ft  of space. It is able to accommodate up to 24 guests.
The bedrooms are spacious and beautifully furnished and decorated.
One of the most beautiful features of this exquisite home is the open-sided covered terrace. From here guests will enjoy breathtaking views of the Caribbean Sea. 
The outdoor area provides a soothing and peaceful accompaniment for your daily relaxation.
This is a villa that you could only dream about. Recently completed and furnished to exacting standards it is one of the most elegant, comfortable and tranquil villas in Barbados. It provides a combination of privacy and luxury where an experienced team of staff will attend to your every need.
The heated crystal salt pool has a stunning infinity edge on the coastal side.  There is also a shallow sunbathing "beach" area in the pool. This has been designed to allow your deck chair to be semi-submerged allowing you to enjoy cool water while you read.
In the evening, the lighting in the pool complements the night sky. 
An open flamed fire pit creates the perfect bonfire for a fun-filled and exciting evening. Let your children enjoy roasting marshmallows or hotdogs under a cloudless sky dotted with stars.


Revive your senses in the neatly tucked away Spa. Here personalized Spa treatments can be tailored specific to your needs.  Swedish Massages, Thai Massage, Sports/Deep Tissue, Guinot Facials, Caci Facials, Manicure/Pedicure and more are on offer.

Sanzaru caters for families with children of all ages. Babysitting services are offered during your stay.
Staying at Sanzaru you will have all the privacy of a home, with the service you would expect at a world-class hotel. The best of both worlds.
Next in our list of Sandy Lane's top 10 villas to rent is Heronetta.
We love this 5 bedroom villa because it is on the beach and has its own tennis court. It also comes with cook, housekeeper, laundress and night watchman.
Villa Heronetta is one of our most popular Sandy Lane luxury villas.
Heronetta is an older styler, classical property located right on the Sandy Lane beach. It is one of the very few beachfront villas in Barbados on the Sandy Lane Beach.
This 5 bedroom Barbados luxurious villa presides over four prime acres of land. It has 110 yards of beach frontage.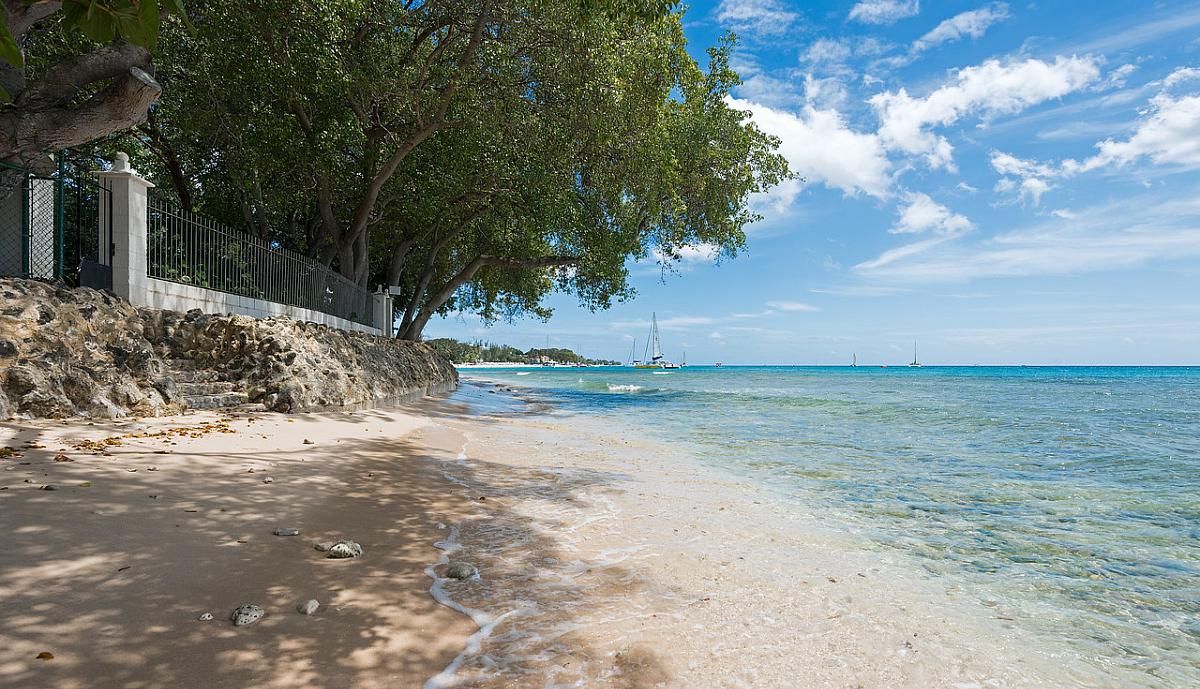 Heronetta also has its own private tennis court.
This beautiful villa offers 5 bedrooms. There are 2 ensuite, air conditioned bedrooms in the main house and the other three bedrooms are positioned in the delightful cottages near the main house. There is also a separate room suitable for a babysitter or nanny.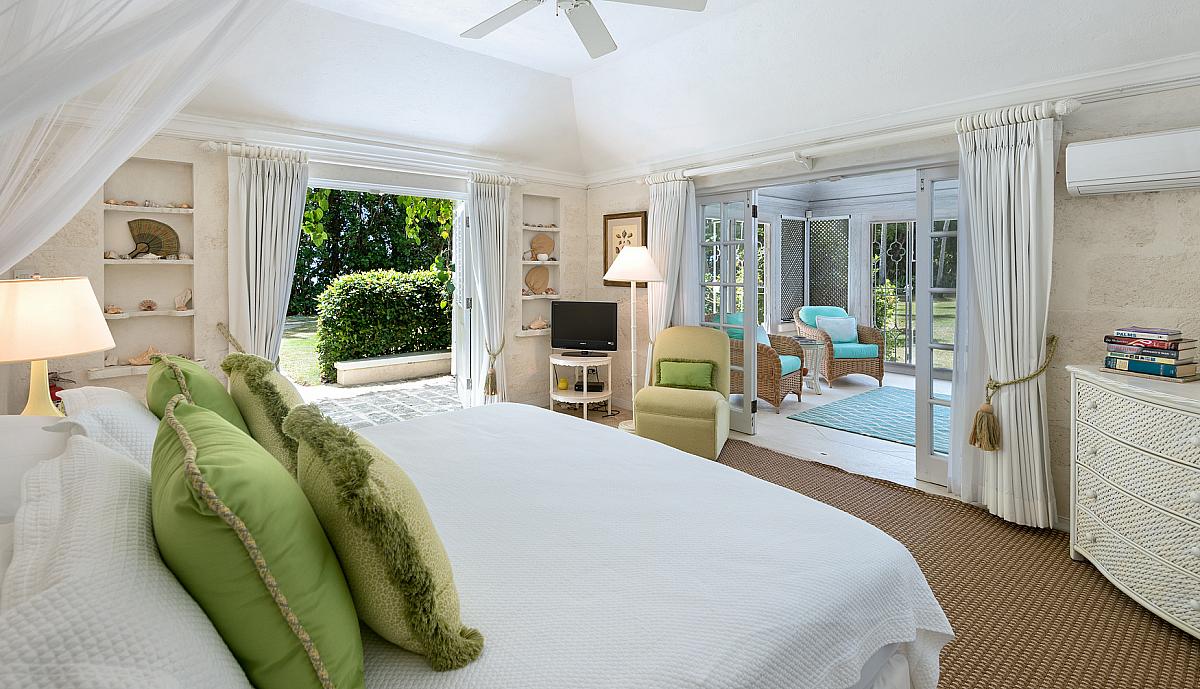 The extensively landscaped English style gardens are mature and well maintained. They provide an oasis of peace and calme for guests and are totally private.  
There is a beautiful dining terrace. The perfect spot for al fresco dining.
There is also a lovely shady open terrace. An excellent spot from which to enjoy the balmy Barbados evenings.
Heronetta has a beautiful, extensive classical swimming pool.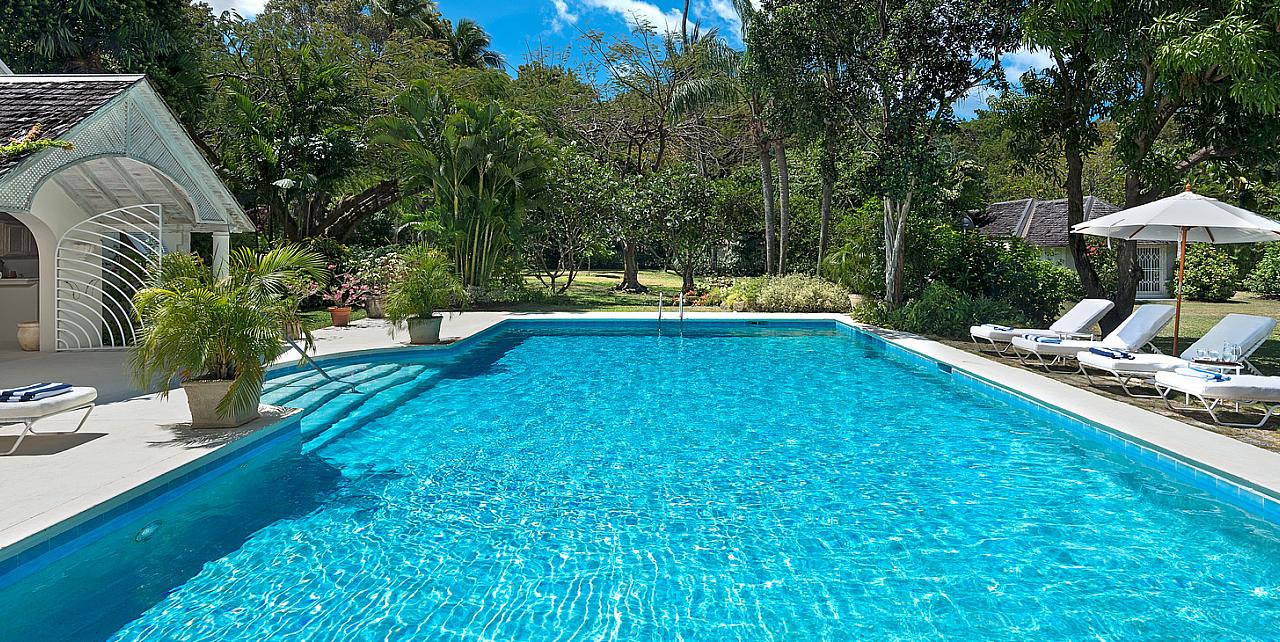 An added feature is the private cabana on Sandy Lane Beach which guests have access to.
Guests may use the Sandy Lane Beach Club with its loungers and parasols. The Sandy Lane Beach Club also has a small restaurant where beverages and light snacks can be purchased.
Guests may also use the Sandy Lane tennis courts. Although charged as external visitors, guests may also make use of the Sandy Lane golf facilities.
Villa Windward is a spacious 5 bedroom villa. 3 bedrooms are on the first floor and 2 are on the ground floor. It has thoughtfully landscaped gardens and modern facilities. Windward is located on Cooper Hill in Sandy Lane. Windward comes with cook, housekeeper and laundress ad nigh security guard.
Windward is one of our most popular rentals on the Sandy Lane estate and guests who stay there love it and come time and again. It is a must in our list of Sandy Lane's top 10 villas to rent.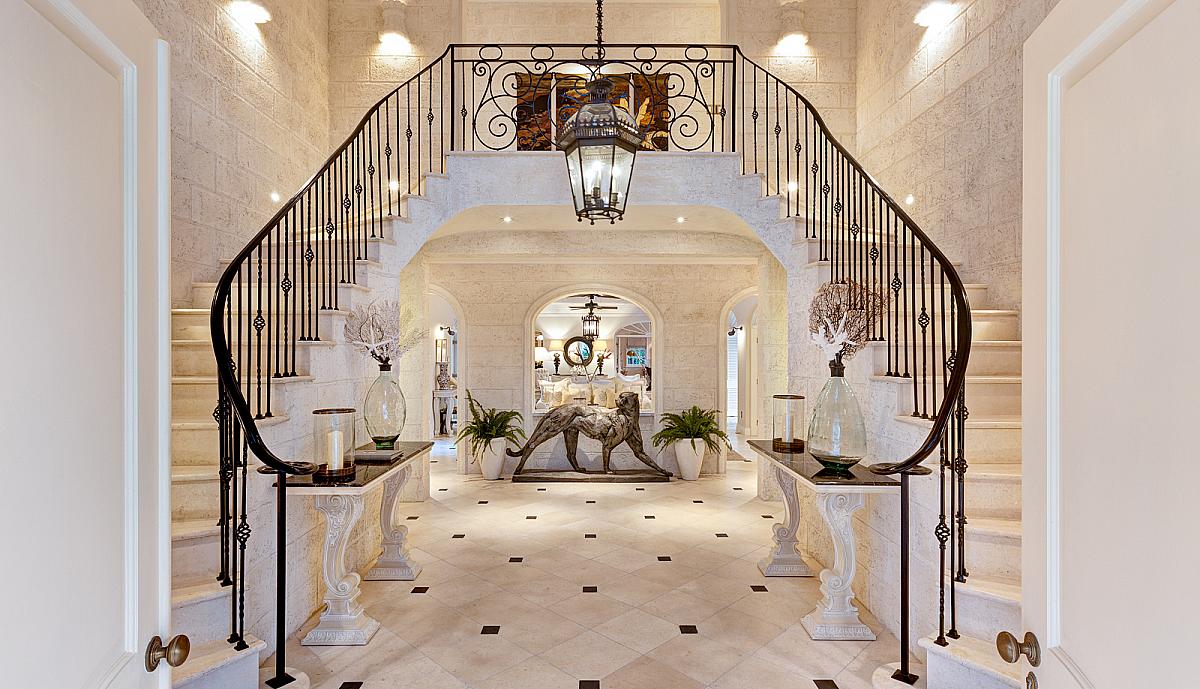 The main living area is open plan, with French doors extending the length of the room. The French doors open onto the spacious covered veranda creating an expansive space for combined indoor/outdoor entertaining.
Steps from the main veranda lead out to the garden and pool via a Lotus and Koi water feature.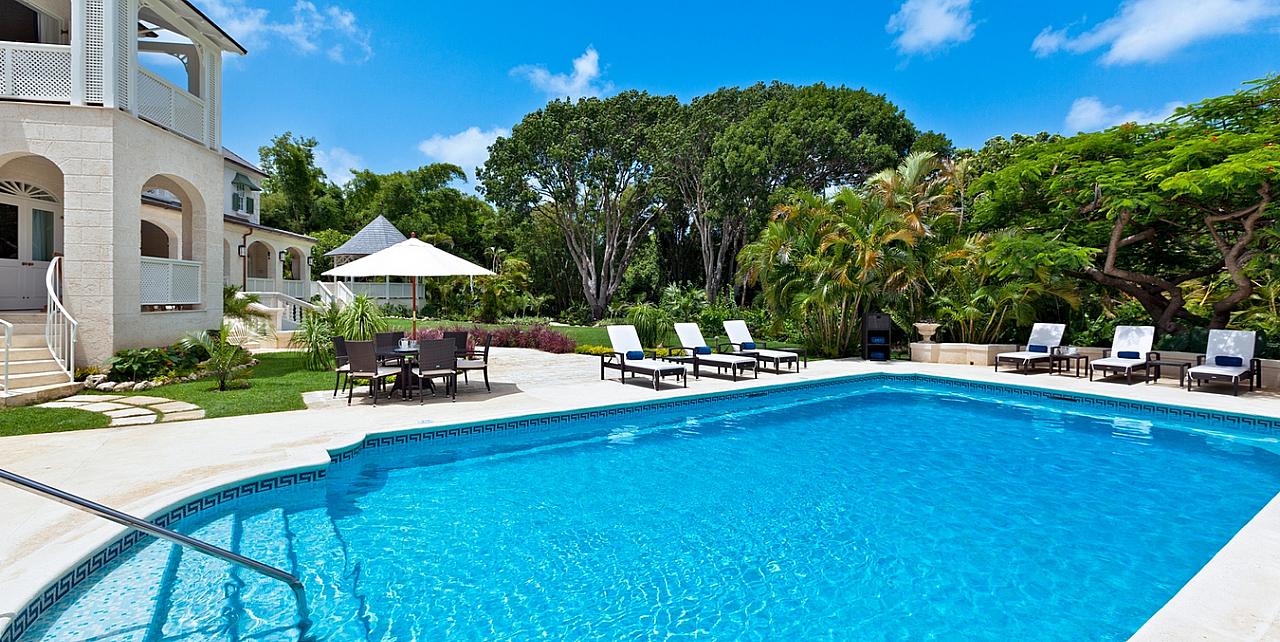 The media room is air-conditioned and features a multimedia 50" Smart TV with surround sound, two comfortable sofas and a desk.
Windward has two dining areas that each comfortably seat 10 persons.
The outdoor dining gazebo, accessed via a short covered walkway, features a circular coral stone dining table and views of the beautifully landscaped gardens.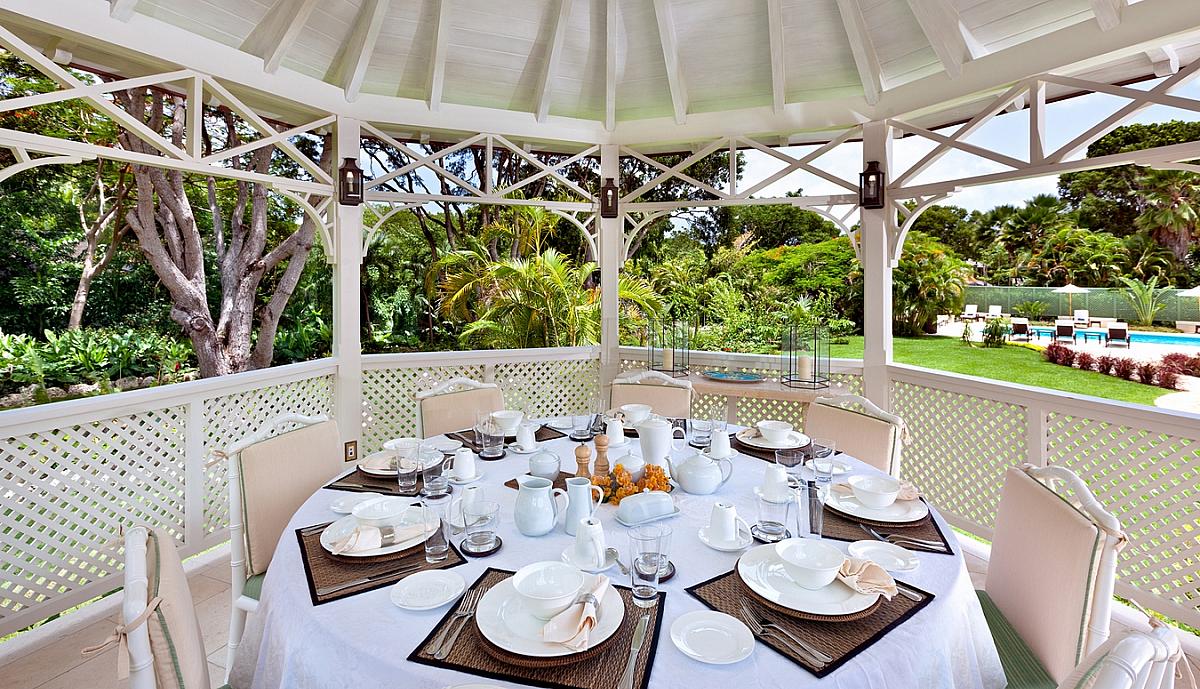 A large coral stone deck surrounds the pool area and features comfortable sun loungers, umbrellas along with table and chairs.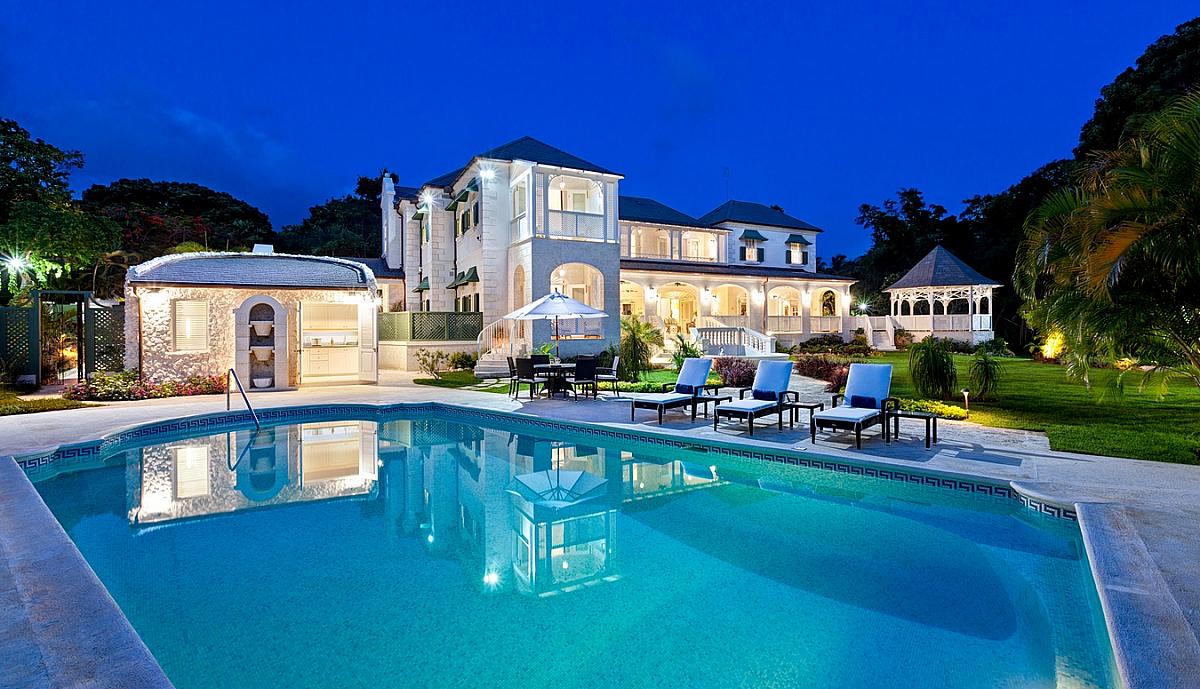 The pool house encompasses a covered bar area, BBQ and bathroom facilities including a shower.
The ground floor of Windward is all on one level, making it suitable for wheelchairs or guests with limited mobility.
The gym is air-conditioned and fully equipped with professional standard equipment including cardio and weight machines.
Windward is rented with a full complement of staff. These include cook, housekeeper and laundress. There is also a night security guard, gardener and personal villa manager.  The staff will prepare three meals daily for 6 days a week.
Aliseo is next on our list of Sandy Lane's top 10 villas to rent. It is a truly magnificent 9 bedroom villa located high up on the Sandy Lane Estate . It has been styled with beautiful high quality furnishings and decor. Aliseo may be rented on a 6, 7, 8 or 9 bedroom basis. It comes with an army of staff including butler, housekeeper/laundresses, chef and nightwatchman. The butler and chef are available 7 days per week.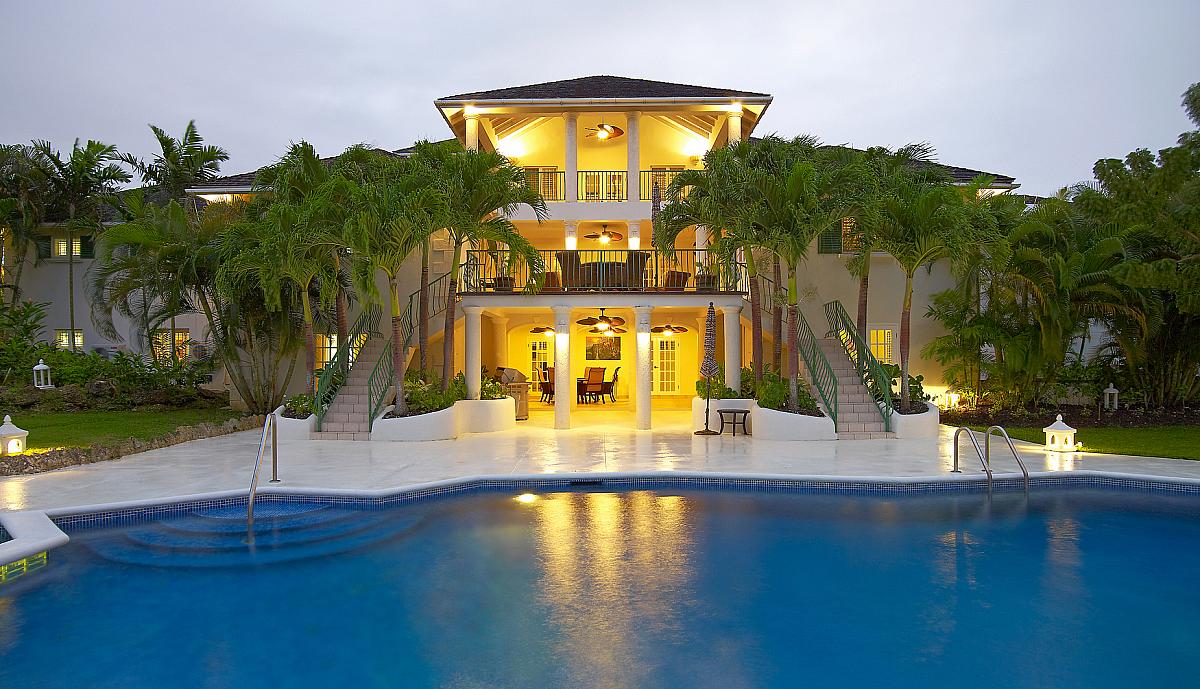 Aliseo offers excellent facilities for all the family. The fabulous service from the team of staff working there makes guests feel like they are staying in their own 5 star hotel. 
The main entrance of this luxury villa in Barbados flows into the formal living area which has a large spacious kitchen off to the left. There is also a study and a formal dining area seating up to 12 people.
The open plan villa living and dining area has French doors that lead out onto a spacious, partly covered terrace. This overlooks the fabulous pool and manicured tropical gardens.
There are 9 spacious bedroom suites equipped with both air conditioning and ceiling fans. 
The Bajan Suite is the master bedroom and is located on the top floor of the villa.  This is the only bedroom on this floor and so it is completely private and set apart from the other rooms.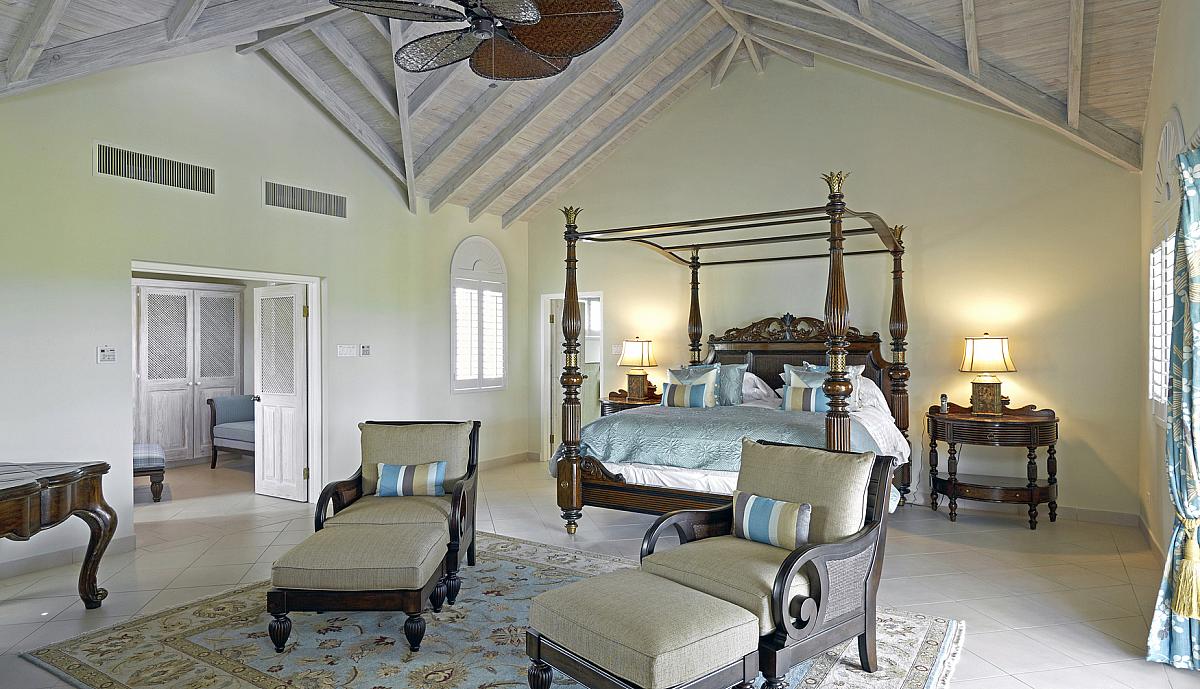 The Bajan Suite features a 4 poster bed. It also have a very large private balcony which overlooks the swimming pool, the lush gardens and has a partial view of the ocean in the distance.
The other bedrooms are on the lower floor of Aliseo. The open plan living room is also on this level. Here you will find a bar area and Karaoke machine. It is a really fun area to relax, inwind and have fun.
There is also a games table which can be used for pool, table tennis and roulette to name but a few.
Guests may also enjoy the air conditioned home theatre and well equipped gym.
On the terrace is a BBQ and space for alfresco dining. The terrace flows out to the large swimming pool and jacuzzi.
The elevated gazebo is the perfect spot for al fresco dining. It commands sweeping views of the entire villa and its stunning grounds.
Guests of Aliseo have access to the Sandy Lane Property Owners beach facility at the nearby Sandy Lane beach.
Guests may also use the tennis courts at Sandy Lane.
Bohemia is a beautifully presented five bedroom luxury villa in Sandy Lane. It offers high quality luxury villa living in Barbados. Bohemia is a classical coral stone palladian style villa with wonderful sea views.
The magnificent ocean views greet you as you enter the villa. The views can also be seen through the stunning lush gardens which enjoy a cooling breeze off the Caribbean Sea.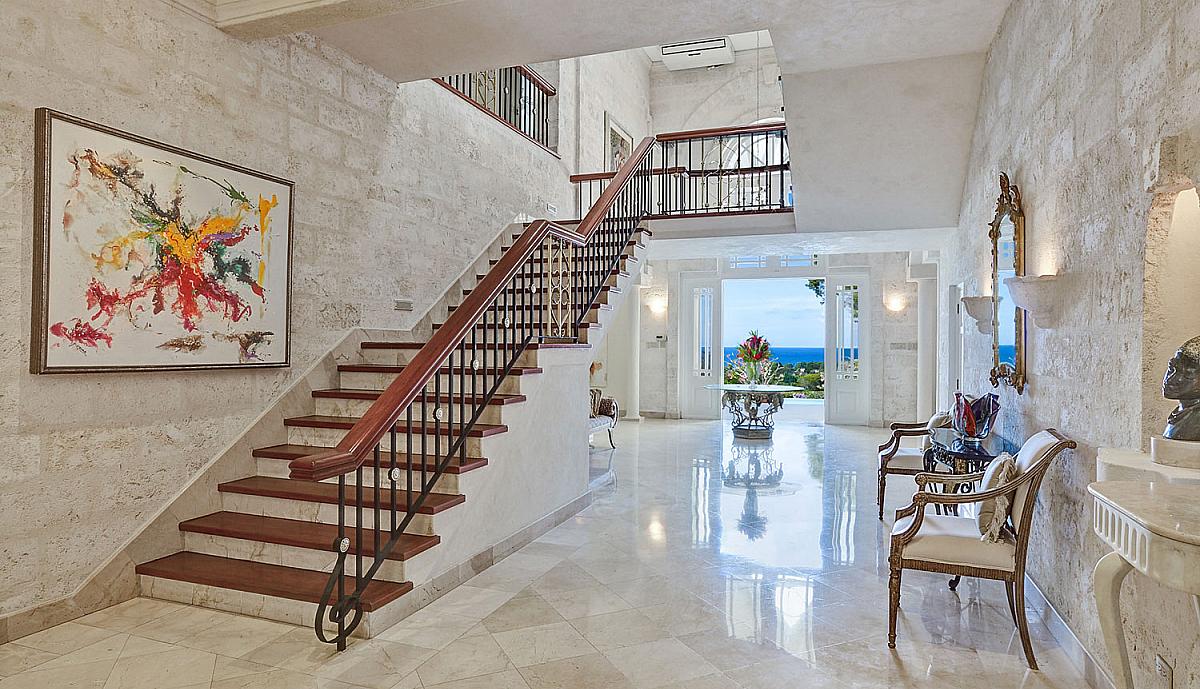 The space and style of this luxury villa in Barbados can only be appreciated once you are inside. The decor is immaculate and the furnishings create an unforgettable ambience. The property also has marble floors and quality fittings including a pool table, piano, 67" flat screen TV with DVD, DirecTV and stereo.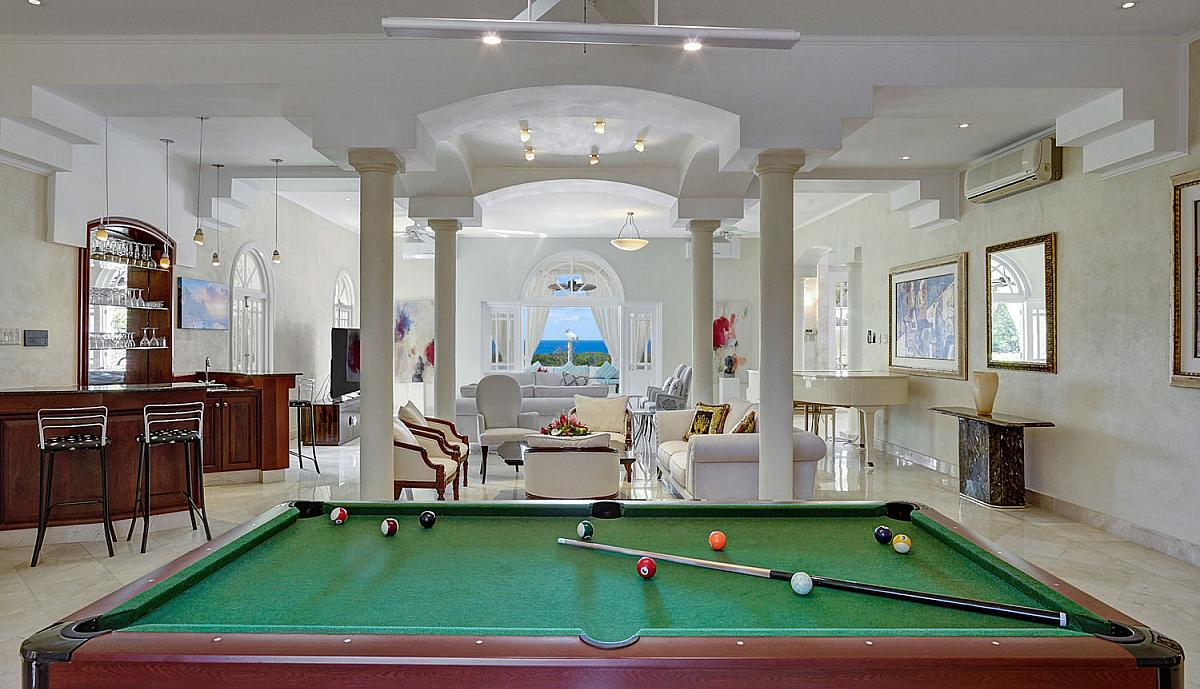 Bohemia is centrally air-conditioned. It has an office with two phone lines.
Each of the 5 bedrooms have en-suite bathrooms, fridge, TV and safe.
Outdoors guests can enjoy an early morning swim in the 50ft infinity edge pool. It is the perfect place to while away your days before watching the beautiful sunset over the Caribbean.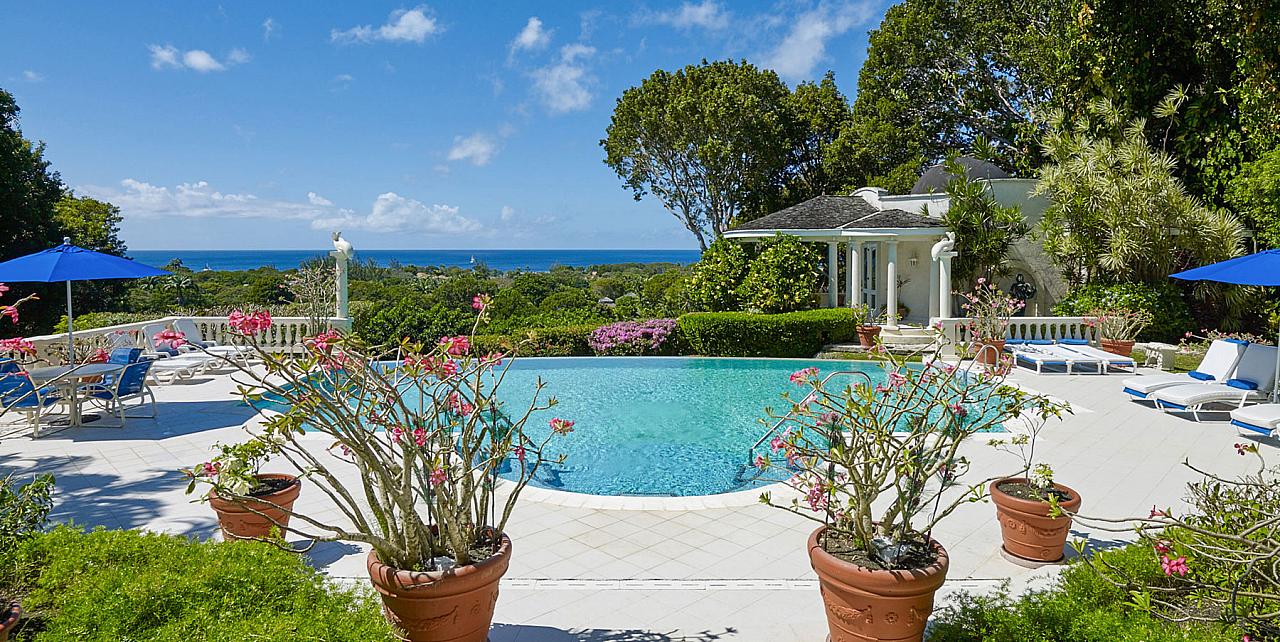 Enjoy sipping cocktails at sunset followed by a delicous prepared dinner.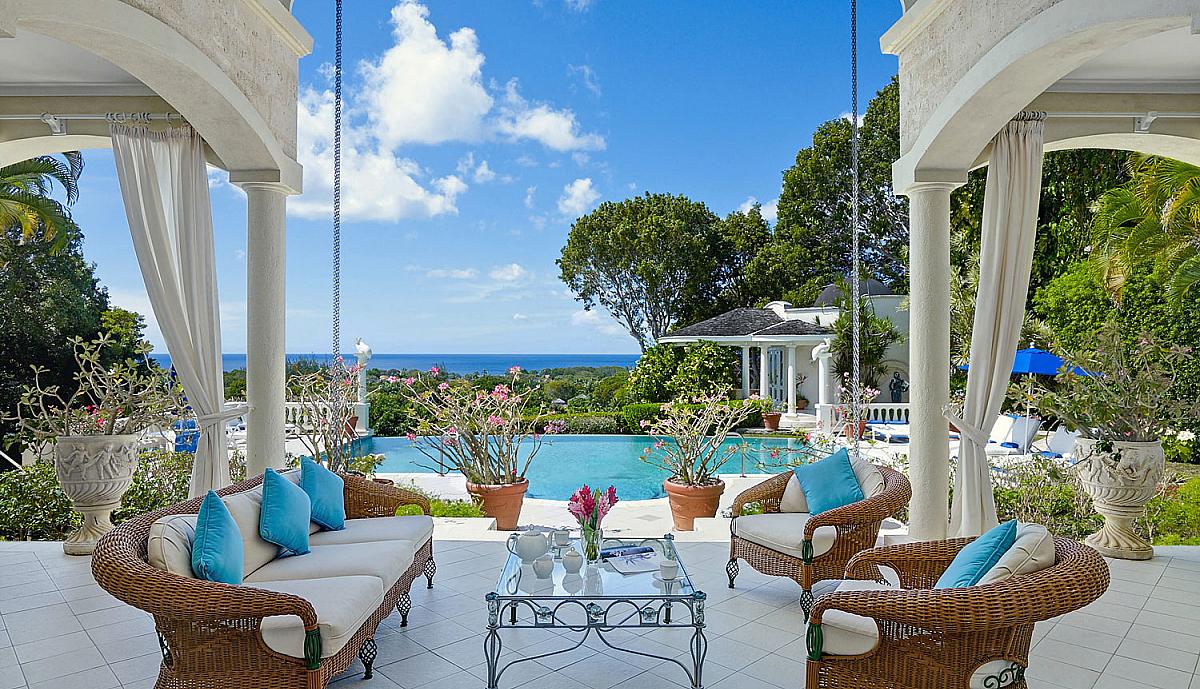 Bohemia's location on the Sandy Lane Estate Barbados is within easy reach of restaurants. Guests have access to Sandy Lane Beach through the Property Owners beach facility. At the beach club you will have the use of sun loungers, parasols and can enjoy snacks in the beach restaurant. Bohemia is also close to world class golf. 
If you like space, luxury and a classical feel you will agree that Bohemia is one of Sandy Lane's top 10 villas to rent.
No list of Sandy Lane's top 10 villas to rent would be complete without One Sandy Lane.
From the moment you arrive and look up at the soaring columns of the porte-cochere you know that you have arrived somewhere special. The arrival hall is equally as impressive with a grand staircase and flowers everywhere.
Located a short distance from Sandy Lane Hotel, One Sandy Lane is a super luxury escape for clients wishing to receive the ultimate standards of service in a very secure and private enclave.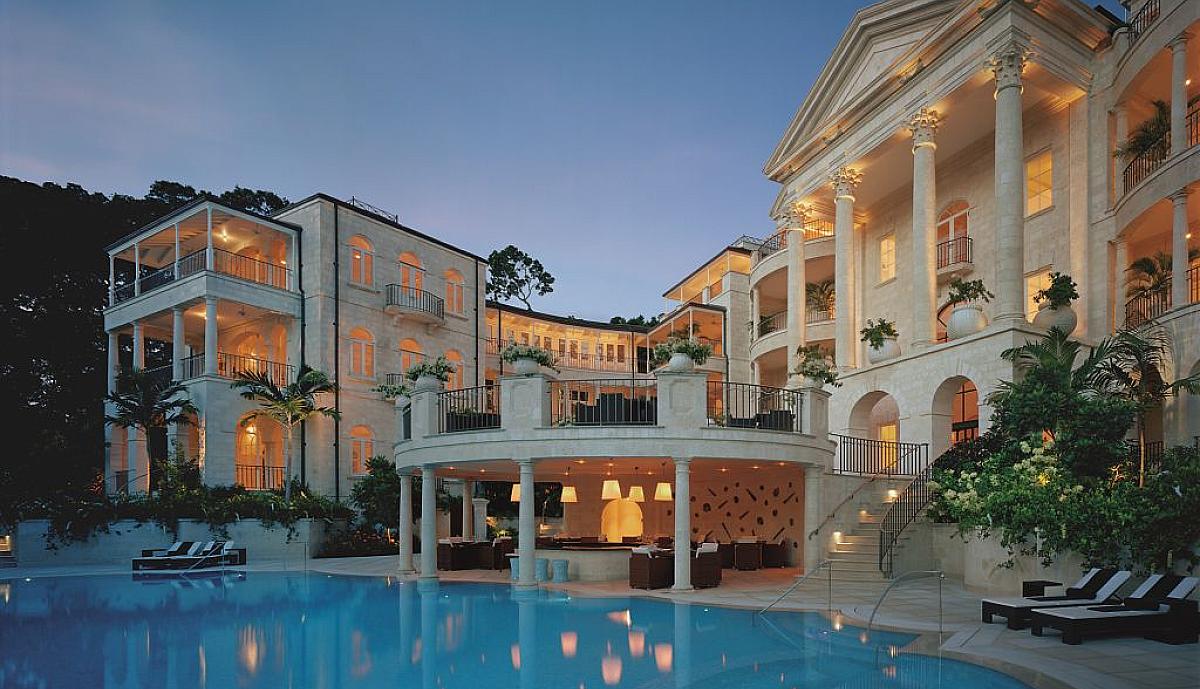 There are just 3 luxurious 5 bedroom apartments currently available for rental. The apartments are very generous sizes ranging from 8,000 to 10,000 square feet with all of the latest luxuries that you would find in one of the best hotels in the world.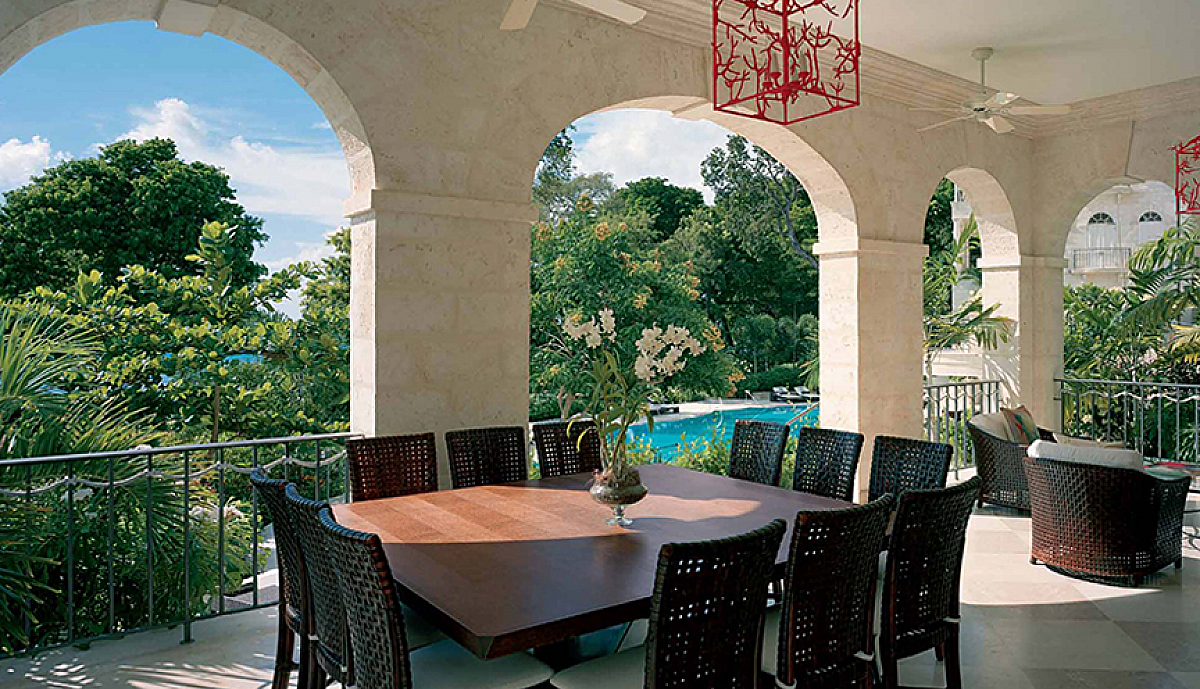 The views from the balconies out to sea are breath taking and below you is the free form swimming pool and beautifully manicured gardens.
Guests staying at One Sandy lane can feel safe as the property has been built and designed for security with the latest secure technology using finger print entry, cameras, secure entry points and a 24/7 security service. The on-site management team will be happy to work with each guest's needs.
There is a full complement of staff ranging from private chefs, butlers, housekeepers, security, concierge and management who will tailor staff, dining, menus, excursions, trips and tours including airport arrangements at the airport, jet centre or ports to each client's needs.
One Sandy Lane has a large communal swimming pool, fitness centre, bar and access to golf, tennis and much more.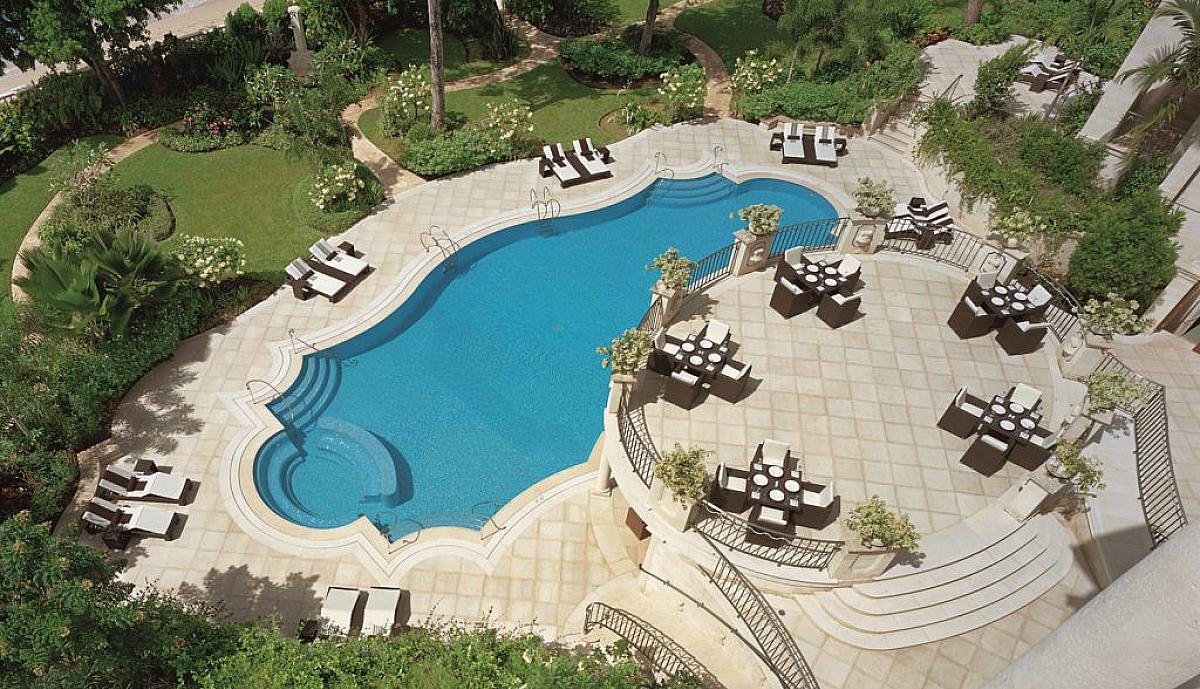 Staying at One Sandy Lane is very personal and One Sandy Lane will cater for all your needs and requests.